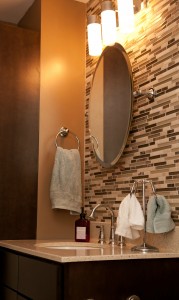 At Weickert's  you will find a stunning selection of porcelain and ceramic tile as well as elegant stones for your home or business. Tile can be used on your floors, walls, back splashes as well as on your counter tops. It also comes in a variety of textures, sizes and finishes. Tile and stone also provide many advantages such as low maintenance, moisture and color resistance as well as being hypoallergenic.
If you are deciding on what is the right kind of floors for you home, keep in mind the lifestyle of your household or business. Tile flooring is very suitable for heavy traffic due to their resistance and low maintenance. It is very easy to clean and stands up over time.  Tile is preferred in bathrooms and in walking areas – hallways and below grade – basements.  In standing areas such as a kitchen, consider hardwood flooring due to the wear and tear it can put on our knees and ankles as well as the the breakage each time something is dropped.
If you are interested in a consultation, please follow the link below and one of our representatives will contact you.
Feel free to review products and styles available from our manufacturer.  This site can be great for getting ideas and beginning the selection process.
Please visit our Cincinnati flooring showroom located at 9949 Springfield Pike, just north of Wyoming, Ohio